Day Camp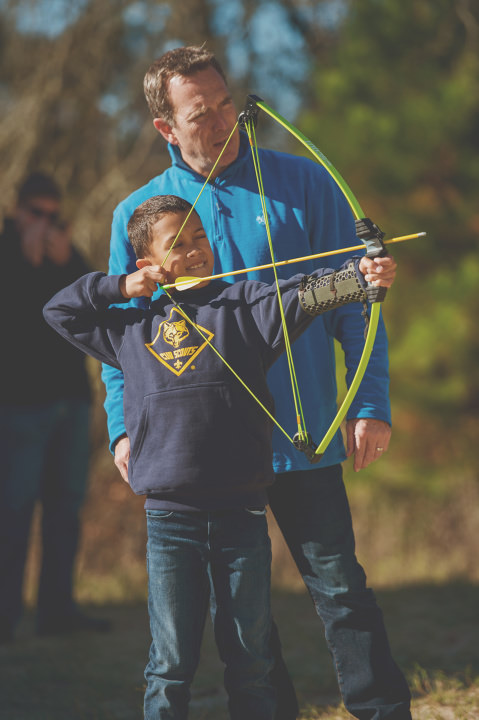 Cub Scout Day Camp
Day Camp is an outdoor experience where Cub Scouts partcipate in individual and team sports, games, crafts, explore nature and work on required adventures and electives. They get to shoot BB guns and do Archery which can't be done at the pack level. Having fun in the outdoors – that's Cub Scout Day Camp. The Day Camp program is designed to teach skills and develop attributes that help make our Cub Scouts more self reliant. They will have fun with a purpose. The purpose is to build character while providing memorable experiences in the life of our Cub Scouts. Everyone needs a Day Camp experience. Cub Scouts will attend Day Camp and return home each day. There is no overnight camping. Cub Scouts participate in outdoor activities built around the 2022 theme of Wild, Wild West. You can expect the Cub Scouts to stretch their minds and their muscles as they prepare to explore all types of activities that can happen in a lab. Cub Scouts, from this year's Tigers to Arrow of Light Scouts, are encouraged to attend. Day Camp is a program of the Great Southwest Council, Boy Scouts of America. Each Day Camp is staffed by hard working, reliable and responsible volunteers. Each Day Camp Director is National Camp School Certified. Each camp meets or exceeds the BSA's National Camping Accreditation Program. Day Camp under goes the accreditation process each year to assure a high quality and safe Day Camp experience. Day Camp can't happen without great volunteers who help plan and staff it. Each Day Camp needs your help in a variety of ways. Please contact your Day Camp Director to see how you can help. Partnership Unit Rebate- If your Pack is a Partnership Unit for 2021, it will receive a 10% rebate for going to Day Camp in 2022. After your Pack's registrations are submitted and the regular cost of the Day Camp fee paid, the Council office will verify your eligibility for the rebate. A check will be sent to your Pack, if it qualifies. This rebate is only available as a Pack, not individual registrations.
2023 Day Camps
"Off to the Races"
All Day Camps: Fee is $85 for incoming Tigers through Arrow of Lights (incoming 1st through 5th graders).
Register by April 22 to guarantee a t-shirt.
Late fees take affect on May 13.
We welcome all Scouts going into 1st through 5th grade to join us for three fun-filled days at camp. Tot Lot and Den chief opportunities also available. Tiger scouts (Scout going into First grade) will be onsite half days 9am-1pm with an adult partner. We are going to learn about how much STEM there is in auto racing; we will practice the Scout skills it takes to sail a boat; and you always need to be prepared to do your best at a horse race! We are going to explore the world of racing while highlighting the importance of the Scout Oath and Law in every competition and adventure we undertake. Of course, we will have BB & archery too!
Sign up with your Pack and make sure they submit registration by the deadline!
Please contact metrodaycampgswc@gmail.com with any questions!
Albuquerque Metro Day Camp
June 5 - June 7
Rio Ranch Elks Club
San Juan Mountains Day Camp
June 1 - June 3
Old Fort Lewis College
Sangre de Cristo Day Camp
June 7 - June 9
Los Alamos Sportsman Club