Council Zones
Our adoption of "Zones" to replace traditional districts grew out of a two year effort by the board of directors know as "Unit Strong 2" to assess the best way to deliver our programs to the youth we serve. The primary goals of Units Strong 2 were to develop a culture of membership throughout everything the Council does, and to improve our direct support of our Units.
With Units Strong 2 underway, our historic four Districts have been disbanded and replaced by 14 new Zones for Unit support. Zones are logical, local clusters of Units: Packs, Troop, and Crews. Zones are as geographically compact as possible, building on communities of interest around the Council. The goal is to emphasize interaction among the Units and focus support of the Units in a Zone on their local issues and needs.
Under Units Strong 2, Units have two groups of volunteers working to help them on membership, retention, and Unit development. The first group consists of Zone Commissioners and Membership Advocates who are assigned to Zones and work with all the Units in those Zones:
The Zone Commissioner's role is very similar to that of Unit Commissioners historically - supporting Unit programming and organization that leads to youth member retention and growth, adult volunteer recruiting and retention, and Unit expansion, providing guidance, information, and resources to Unit Key 3s, and serving as a conduit for information.
The Membership Advocate is a new position, That volunteer is focussed on helping the Units plan and carry out recruiting events appropriate to their geography and local youth characteristics, to build events designed to raise awareness of Scouting in the Zone, to assist Units with retention of their youth, and to coordinate with Zone Commissioners to ensure comprehensive Unit support. Each Membership Advocate now serves on the Council's Membership Committee, to provide a essential link between the Council's overall membership work and local efforts,
The other group of volunteers working with Units is our new Division Advocates. The Council has established three age-based Divisions, each headed by a Council Vice President: one for our Cub-age program activities-Lily Bray, one for our Scouts BSA-age program activities-Mike Maurer, and one for older youth programs-Karen Zenger. Each Vice President will work to strengthen Units in their age-range and will coordinate with our other operating groups.
To further support our Units, District Roundtables have been supplanted by Council Roundtables, where Unit volunteers from all around GSWC come together for information and in-service trainings. Get-togethers during the year are also being planned for Zone volunteers to exchange ideas and share successes.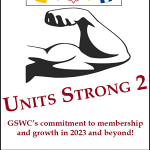 ZONE
Zone Description
Assigned Units
Membership Advocate
Zone Commissioner
Unit Commissioner
RG01
North Rio Rancho / Bernalillo
Packs: 17,147
Troops: 17B,17G,24B,
24G,708
Crews: 16,17
Missy Cordero
TBD
Per Current Unit Assignment
RG02
Seven Bar
Corrales
South Rio Rancho
Packs:702,1974
Troops: 417,702,714
1010,1919,1974
Crews: none
Jessie Brown
TBD
Per Current Unit Assignment
RG03
Paradise Hills
Taylor Ranch
Los Ranchos de Albuquerque
Packs: 8, 12, 174
Troops: 9,126,174
Lily Bray
TBD
Per Current Unit Assignment
RG04
Belen
Los Lunas
Packs: 116,360
Troops:116,360,831
Crews: none
Heather Burks
TBD
Per Current Unit Assignment
RG05
Gallup
Packs: none
Troops: 40B,40G
Crews: none
TBD
TBD
Per Current Unit Assignment
SJ01
Southern Colorado
Packs: 225,502,508,807
Troops: 33,225,501,538,807
Crews:612
TBD
TBD
Per Current Unit Assignment
SJ02
San Juan County-NM
Packs:179,321,324
Troops:152,179,321,324,325
Crews:none
TBD
TBD
Per Current Unit Assignment
SA01
Montgomery Corridor
Packs:166,409
Troops:166,220,444
Crews:none
TBD
TBD
Per Current Unit Assignment
SA02
Indian School Corridor
Packs:280,442,495
Troops:280,285,395,
459B,459G,1395
Crews:280,395,459
Susan Phelps
TBD
Per Current Unit Assignment
SA03
Academy Corridor
Packs:241,491,990
Troops:1,29,410
Crews:none
TBD
TBD
Per Current Unit Assignment
SA04
I-40 Corridor
Packs:3,85,463,640
Troops:3B,3G,85,185
640B,640G
Crews:none
TBD
TBD
Per Current Unit Assignment
SC01
Los Alamos
White Rock
Packs:22
Troops:2,22,71,122
Crews:20
TBD
TBD
Per Current Unit Assignment
SC02
Santa Fe
Packs:53,57
Troops:53B,53G,57B,57G
Crews:none
TBD
TBD
Per Current Unit Assignment
SC03
Philmont
Packs:68
Troops:68B,68G
Crews:none
TBD
TBD
Per Current Unit Assignment