Each district conducts monthly workshops, called "Roundtable," to convey current information on upcoming events and activities and to provide program specific information and ideas for unit programs. Most districts offer Roundtables for Cub Scout Leaders and Boy Scout Leaders, with Varsity and Venturing leaders welcome in the Boy Scout Leaders Roundtable. A few districts offer specific roundtables for Varsity and Venturing Leaders as well. Check with your District Commissioner or District Executive for more information on Roundtables.

Please refer to your district calendar or for more information.
More
Health and Safety Training
This course orients you to the health and safety programs of the Boy Scouts of America, and may include Safe Swim Defense, Safety Afloat, Climb on Safely, and the new Trek Safely.

Training is conducted in each district annually. Please refer to your district calendar for more information.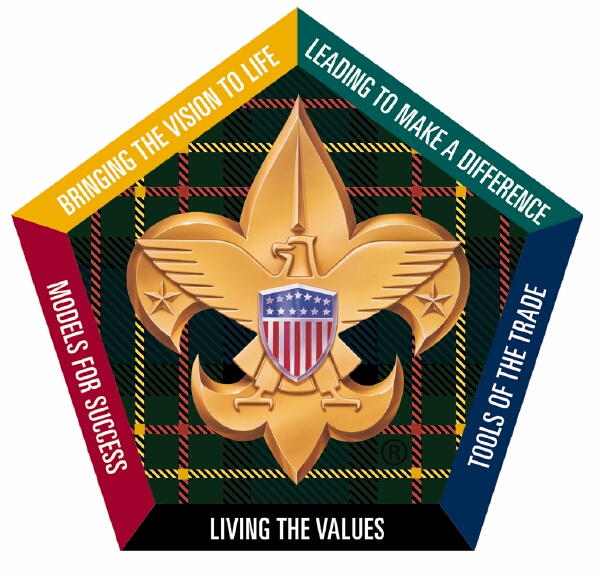 Wood Badge has been developed for Cub Scout, Boy Scout, Varsity Scout, and Venturing leaders, as well as council and district leaders. Its focus is on leadership skills.

The primary purpose of the Wood Badge experience is to strengthen Scouting in our units, districts, and council. The Wood Badge "ticket" represents your commitment to complete a set of personal goals relating to your Scouting position. These goals will significantly strengthen the program in which you are involved. In addition, the ticket gives you an opportunity to practice and demonstrate a working knowledge of the leadership skills presented during the course. You will have 18 months to complete your ticket.

Upon completion of the Wood Badge ticket, as certified by a ticket counselor and the Scout Executive, you will be presented with the Wood Badge certificate, neckerchief, woggle, and beads at an appropriate ceremony.
What are the Objectives of Wood Badge?
As a result of attending Wood Badge you will be able to:
View Scouting globally, as a family of interrelated, values-based programs that provide age-appropriate activities for youth.

Recognize the contemporary leadership concepts utilized in corporate America and leading government organizations that are relevant to our values-based movement.

Apply the skills you learn from your participation as a member of a successful working team.

Revitalize your commitment by sharing in an overall inspirational experience that helps provide Scouting with the leadership it needs to accomplish its mission on an ongoing basis

.
And of course, since Scouting is a game with a purpose, expect to have a lot of fun!