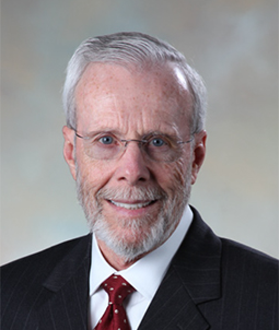 Great Southwest Council President David Williams welcomes you to the "President's Corner"
Mr. Williams can be contacted by clicking here
March, 2015
Our First Camporee
My son, Kevin, and I were on our first Camporee. He had just crossed over from WEBELOS and was filled with anticipation. I was a shiny new ASM assigned to work with his first-year Scout patrol. Neither of us exactly knew what to expect.
Camp got set and we settled in. I recall distinctly having a sense of relief that all seemed to have gone very well. The next day was filled with Scout challenges as the boys and I scurried from activity to activity. In the great Scouting tradition each and all did our best. There was laughter, a sense of accomplishment, and fellowship abounded.
After dinner a light rain began to fall. The ground was dampened, but not Scouting's spirit. Laughter embraced the camp. By midnight the situation had worsened and snow began to fall. Our first-year Scouts slept through most of it. We awakened to a white panorama that quickly turned to New Mexico caliche-brown as the Scouts tramped around. The night's snow turned to misting rain and Scouts were feeling the damp chill. Many simply wanted out of there as they began to pack their gear.
But, there was work to be done. Breakfast duty had to be fulfilled. I stood next a cold, uncomfortable first-year Scout to show him how to scramble eggs in order to fulfill his duty as the morning's cook. He was not happy. I made things worse by spilling his well-turned eggs into the stove. "Rookie error", I told myself. I cleaned-up my mess and asked him to build another bowl of eggs.
Keeping him in eyesight, I then went off a few feet so that the Scout could get his patrol's breakfast made without "Mr. Williams" adding to his stress and discomfort. Then I heard his fateful cry, "Mr. Williams … Mr. Williams, come here!"
I rejoined him, "What do you need?"
"Mr. Williams, look at these eggs! Aren't they beautiful? I didn't know I could do this!" For him, the damp and the cold of this morning had disappeared.
All ate well. The Scout was filled with the pride of accomplishment. It was in this moment that I became a lifelong Scouter. I remembered a lesson I had learned as a Scout. You can be in a miserable circumstance, but you don't have to be miserable.
This lesson has been with me for many years. Life is full of miserable experiences, but Scout-matured individuals push through them with a sense of duty, resolve, and confidence. We simply "Do our best". It is the Scout's way.
Scouting Matters!