Thank you for choosing Gorham Scout Ranch's Cyber Summer Camp! While we cannot be together in person we are excited to offer this virtual program as a nationally accredited camp (NCAP).
Please contact us with any questions or concerns at gorhamscoutranch@gmail.com, we are happy to help!
— Gorham Scout Ranch Leadership
Cyber Summer Camp Dates:


Cyber Summer Camp Fees:
Scouts are invited to attend multiple weeks of camp! The initial registration fee of $70 ($65 if registering with a troop†) includes 4 merit badge classes, a t-shirt*, patch*, cyber chip, virtual campfire and evening programs, virtual honor troop program, virtual scoutmaster merit badge, and access to counselors to sign off any previously started, incomplete merit badges a Scout has finished.
*Once normal Council and state operations resume, t-shirts and patches will be arranged for pickup with each troop's Scoutmaster. Out of Council Troops will have an additional fee to cover the cost of shipping. Adults may purchase a t-shirt and patch for $20 in Tentaroo.
†Troop rates will be discounted manually in Tentaroo after the troop is initially registered. Troops must have at least one Scoutmaster registered. The discount will apply by the Thursday before your troop's session. Email or call the Camp Director (jpeterman993@gmail.com) for any issues or questions regarding the discount.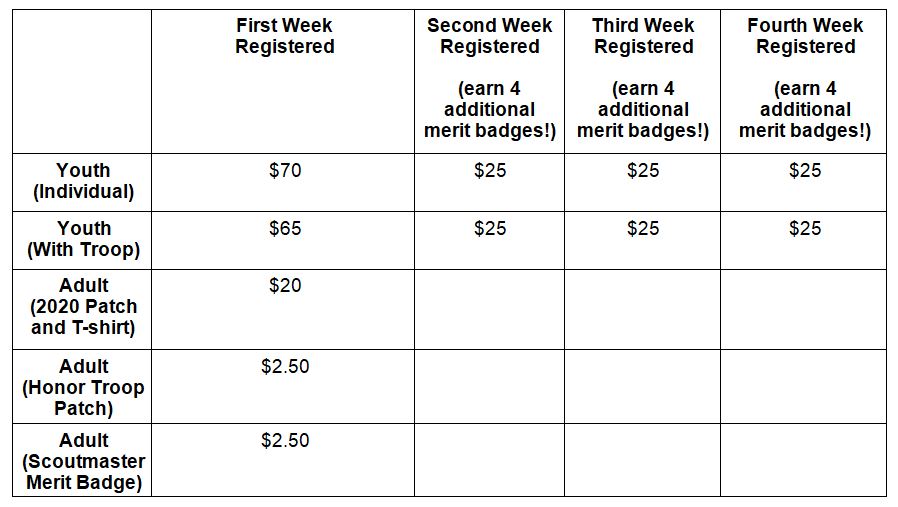 The 2020 Cyber Summer Leaders Guide linked below outlines our camp policies, merit badge programs, our daily schedule, and more! We hope this helps answer your questions and adds some fun to your summer.
Reservation Policy:
Units who made a reservation for in-person camping are eligible for a full 100% refund. Registration for each week's program closes the Sunday before the program starts (program begins on Monday of each week).
Payment Schedule:
Camp fee payments for cyber camp are due the Friday before the session begins. For example, Week 1 begins on Monday, 6/15, payment is due Friday, 6/12.
Making a Change to a Reservation:
Make changes to your reservation in writing. Include the unit number, reservation number, changes requested, name of person requesting the change and phone number. It is necessary to have changes in writing to ensure that your reservation is correct. Email to: Camp Director Jarod Peterman at jpeterman993@gmail.com or Mail to:
Great Southwest Council, BSA
Attn: Caryl Sharpe
5841 Office Blvd NE
Albuquerque NM 87109
Refund Policy:
Planning and purchasing for camp happens long before camp begins. Consequently, refunds are made as follows:
· Cancellations on or before June 8: all fees paid.
· Between June 9 and June 12, all fees paid, less $35 per Scout deposit are transferable.
· After June 12, no refunds are made unless the one of the following is met:
1. Family moves out of the Great Southwest Council.
2. There is a death or serious illness in immediate family.
3. The individual becomes ill and is unable to attend camp.
· No refunds will be made within three days of camp.
· Refund requests received after camp, or for "no shows," will NOT be honored.
If a refund is granted, it will be for fees paid after non-refundable unit and individual deposits are deducted. Refund checks are mailed by early November and will be made out to the Troop and sent to the unit leader, if registered as a troop. Refunds will be issued to the registering adult of individual scouts.
Requesting a Refund:
Units may request a refund using the refund request form found at the end of the Leader's Guide. If your refund request is earlier than two weeks prior to camp, submit this form to the Council Office. If your refund request is within 2 weeks of program, submit the refund request form to the camp director. Please list the specific reasons for each scout.

ABOUT GORHAM SCOUT RANCH:
Gorham Scout Ranch, formerly Camp Frank Rand and Chimayo Scout Reservation, was established in 1972 as a center for outdoor skills training, high adventure, and FUN! Our camp is located on 2,650 acres of high-desert beauty in the foothills of the Sangre de Cristo Mountains of New Mexico in addition to being a nationally accredited camp (NCAP). The rolling hills of piñon, ponderosa, and juniper will captivate the mind and enchant the spirit.
Somewhere, someplace, sometime in the maze of schedules, the rush of activity, the intensity of excitement, and the attention to duty, come moments of deep value and lasting impressions in the camping experience. These values and experiences are not written into the program, and they cannot be given a money back guarantee because they are priceless.
We, as camp staff and Scout leaders, have the role and duty to help each other establish the tone within the program and help to create an atmosphere that will result in meaningful camping experience for the Scouts entrusted to our care. It is the commitment of our staff to help you and your Scouts experience the adventure that is Scouting, and to do such in our beautiful great outdoors.
Last summer, Gorham Scout Ranch opened our Cowboy Action Shooting Range. This program joins ATV Adventure and the COPE program as part of the offerings available for older Scouts coming to camp.
We are most excited to again host Boy and Girl Troops for the coming summers. Our program and facilities are ready for all future Eagle Scouts to attend Gorham Scout Ranch.